The Dream Quest eBook now available!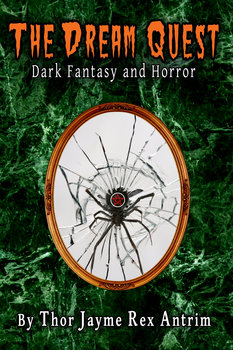 The Dream Quest eBook!
Safely order with PayPal.
The Dream Quest contains 14 Tales of Horror and Dark Fantasy. From thrillers to supernatural nightmare fuel – there's even a story you can read to your kids, provided you don't mind waking to occasional night terrors.
No one wanted to buy Coby's stolen goods, and for good reason: the thing in the bag kept moving.
A team of vigilantes track serial killers for sport, but when one takes on a legendary cult leader, all hell breaks loose.
Henry never believed in monsters, until the night they paid him a personal visit.
Order the eBook Now!
I save on printing costs, you save on cover price. The Dream Quest eBook is just $5, half off the cost of the print version. The eBook was lovingly handcrafted by the author himself. No mere automated conversion, this is an artisan eBook.
Order The Dream Quest eBook for $5 and you'll receive:
A Kindle compatible .MOBI file.
A Nook, Kobo, etc. compatible .EPUB file.
You'll receive an email containing both digital editions within 24 hours of payment.
The first edition print book is temporarily unavailable, due to reasons of a highly technical and personal nature. I can't find them.
Contact Me
book@mirtna.org